How to Appeal a UCSD Rejection Letter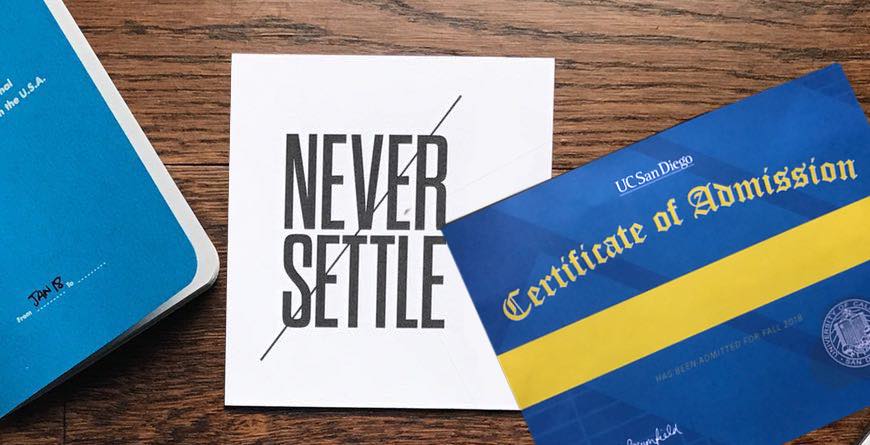 Preview:
A successful UCSD appeal letter limits you to 250 words and forces you to prioritize just two to three issues upon which your entire case for reconsideration rests. 
The UCSD Appeal Process:
The good news? Appealing your UC San Diego (UCSD) rejection letter has no negative effect on your chances of being accepted in a future admissions cycle. So why not appeal, right? The less-than-desirable news? Appeals generally have a low success rate of about 2% and UCSD appeals give you only 250 words to state your case. 
There's no beating around the bush here: UCSD appeals are deceptively hard. So, first, let's explore what makes their editing difficult. Then, we'll suggest a counter-intuitive strategy for making their development easier.
Finding the UCSD Appeal Portal:
Historically, UCSD has hidden the link to its online appeal portal and shared it only with students who contact the admissions office to request the ability to appeal. After a short conversation, which often includes a disclaimer to warn about the low chances of succeeding, you'll be provided a link to the appropriate part of the admissions website.
Lots of Quality Thought, But Even More Editing:
Many people scoff when we explain that it takes us longer to help a student develop a compelling 250 word UCSD appeal than it does to develop a 1,000 word UCLA appeal. Shorter seems easier, naturally, but it's exponentially more difficult to try and pack the same punch as a 1,000 word appeal in only 250 words. Achieving perfection requires fidgeting with your sentence sequencing (a lot).
To Make Things Easier, Avoid This Trap:
In trying to brainstorm for a response that is 250 words, your brain will naturally want to eliminate out any non-essential ideas that come to mind. This interrupts your creative flow, preventing you from meandering your way to your best ideas. To avoid devolving into a mental tailspin, it's actually better if you put the UCSD appeal aside and outline an appeal letter for another UC campus first. All of the other UCs afford you more page space and once you perfect a longer appeal you can whittle its two to three most powerful concepts down to a 250 word version.
Ultimately, the best appeal argument for one UC campus is the best argument for all UC campuses. They all received the same UC application. Case in point:
We'd Love to Help You:
Because we know the editing shortcuts, tricks, and methods that will reduce your word count while minimizing loss of detail, our appeals counselor can walk you through the UCSD appeal process step-by-step and help you develop your strongest appeal letter. During the first session, we'll analyze your UC application to determine the most important focus points and the second session focuses on polishing. Most students need no more than two sessions to perfect their appeal letter and can submit their appeal within days. Our appeal sessions are sold in 1.5 hour time spots ($375 each). Contact us to learn more.